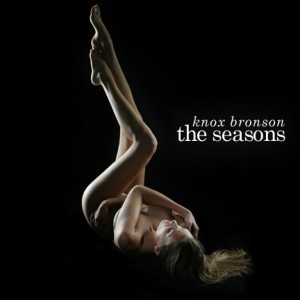 Dedicated to bringing back the golden era of pop songcraft via a unique mix of rock, electronic and classical influences, Knox Bronson has long subscribed to the whimsical spiritual notion that "we don't write the songs. They already exist, flying all around us all the time. And with a little luck, patience and discipline, we are able to catch, as Bob Dylan put it, something worth sharing." On his inspiring new all-instrumental recording The Seasons, the multi-talented Bay Area based singer, songwriter and composer expands beyond the powerful pop songcraft of his 2008 release Pop Down The Years to create a magnificent and sweeping four movement electronic symphony.
In his pop-rock work, Bronson comes across much like The Beatles filtered through Bowie, with some Donovan, French impressionist composer Claude Debussy and the legendary German electronic band Kraftwerk added for good measure. The Seasons expands upon the Debussy part of that creative cocktail, offering four compelling 15 minute movements that develop and blossom as thought provoking and contemplative pieces representing each season of the year: "Summer of '68," "Autumnal Sun," "Winter Blue" and finally, "The Forever Spring." Inviting the listener on this powerful journey along with Bronson is a real life Victoria Secret supermodel, dressed beautifully and seductively in various images on the CD cover and throughout the artwork.
While Bronson, like many composers, enjoys allowing longtime fans and listeners new to his musical experience create their own interpretations of his pieces, he's happy to provide a little guidance as his fascinating musical calendar rolls along. He calls the historical "Summer of '68" "the last good summer" and as the piece rolls along, it reflects this beauty and innocence with the most ambient vibes on the collection. The piece evokes a pleasant afternoon, as if sunning on coastal hills  (the cd opens and closes with washes of stylized synthesized waves crashing) and enjoying the calm as a warm summer day floats along. The moodier "Autumnal Sun" captures through a unique array of keyboard and symphonic sounds the subdued colors of autumn. Overall, it's melancholy in nature, but not dark—it's more about the shifting tides of life and even has a bright passage with musical impressions of a "sprite," a preternatural legendary elf-like creature (like a fairy or dwarf).
Bronson next enters the "Winter Blue," which begins with and employs as a rhythmic foundation a repeating electronic arpeggio-like "heartbeat monitor" type sound. In certain places, he adds strings and horns on top of it and creates the feeling of whipping wind and falling snow. As the track progresses, everything else falls away and the lisener hears only the sound of a synth violin holding a sustained high note. Though the piece was written during a dark period in Bronson's life, he is an optimist by nature, and that long note represents a bridge out of the spiritual darkness and into the light. It is the turning point of the whole project, which concludes with "The Forever Spring," a more exuberant, "rain and guitar" piece that expresses the image of electronic shoots coming up from the ground as the energy of renewal gathers in the earth and ultimately bursts out. But even with the overall uplifting nature of this track, Bronson embeds occasional undertones of nostalgic wistfulness as well.
"I enjoyed drawing upon all of my pop and rock influences to craft the songs on Pop Down The Years," he says, "but on The Seasons I really wanted to write something of more emotional and spiritual depth that people could listen to for a whole hour straight, either as background music or as a focused emotional experience…a unified piece that takes the listener on a real journey. I have been told by a number of people that it is a great record to make love to."
If Bronson's unique approach seems like a throwback to 60s and 70s–a tribute to the old school way of composing and producing–make no mistake, it's purely by design. He came of age in those days and can remember a time when music mattered, the roots of rock were blues and the Brill Building and Tin Pan Alley influences ruled the charts. After recording two previous classical/electronic driven albums—including Deus Sex Machina and Flight Of The Atom Bee, a companion piece to his novel Flapping (both cds will be rereleased later this year)—he returned to his lifelong love of pure, heartfelt songwriting. His goal: to maintain that level of composing while blending in and exploring the unique tonal colors made possible by today's incredible technologies.
"The Seasons is a journey, brought forth from my own experiences, a work born of despair and spiritual desolation at a very difficult time of my life. What got me through was the ability to go down where the music was is, as storms above raged. What was brought forth documents a path from an earlier innocence into the abyss and, most importantly, back out into the light again. The music itself was the bridge that carried me across. I tried to instill each piece with its own colors, motion, and evocation of place and time. You can listen closely and let your own images come forth, or you can let "The Seasons" carry you along in its dreamy way. Better yet, cuddle up with someone you like and go with the flow."
Read More