Discovering the writings of Corwainer Smith in the early 1970's was a life-changing revelation. At that time, neither his one novel, Norstrilia,nor any comprehensive compilation of his incredible short stories were in print.
For years, I would scour used bookstores in search of his stories, finding one of his stories in this or that compilation, in print, not in print, whatever. Needless to say, his writing had a profound effect on me and I have striven to create worlds, in music and art and words, as strange, as haunting, and, I hope, as full of love as his works, amidst the weirdness. Not that I come close in that regard: but one must aim high. Smith's stories do not grow old. Interestingly, although he was almost unknown 40 years ago, he is regularly deemed the most influential science fiction writer of all time now. I recommend his books, Norstrilia and The Rediscovery of Man without hesitation.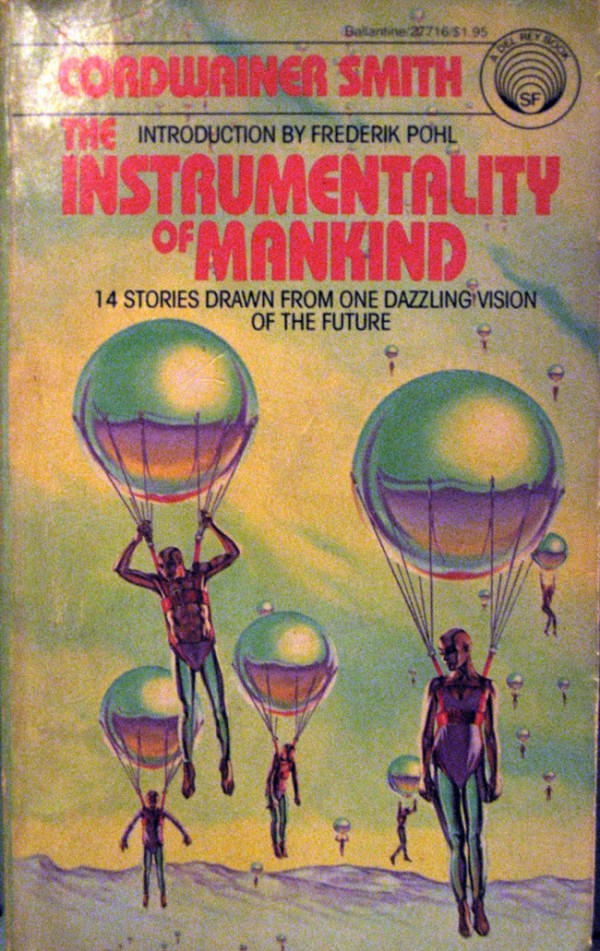 From 1950 to 1966, stories appeared in mainstream science fiction magazines by an author named "Cordwainer Smith". From the first to the last, these stories were acclaimed as among the most inventive and striking ever written, and that in a field specializing in the inventive and the striking.
Their author was a very private man who did not want his real name to be known because he did not want to be pursued by SF fans. It was only after his death in 1966 that more than a handful of people knew that
"Cordwainer Smith" was in real life Paul M. L. Linebarger.
Here is an article I found many many years ago and saved. I cannot find it anywhere else anymore, so I am taking the liberty of publishing it here. I make absolutely no claim to ownership or copyright. I am just publishing as a public service.
Christianity And The Science Fiction Of Cordwainer Smith
by James B. Jordan
Copyright © 1991 Originally published in Contra Mundum No. 2 Winter 1992
Paul Myron Anthony Linebarger
Paul Linebarger was born in 1913, the grandson of a clergyman. His
father, an eccentric man, had served as a Federal District Judge in the
Philippines, but had left this post to work full time for the cause of
the Chinese republican reformer Sun Yat Sen, who became Paul's
godfather. Paul Linebarger grew up in the retinue of Sun Yat Sen, for
his father stayed with Sen during his exile in Japan and throughout his
career in China.
Linebarger spent his formative years in Japan, China, France, and
Germany. By the time he grew up, he knew six languages and had become
intimate with several cultures, both Oriental and Occidental.
He was only twenty-three when he earned his Ph.D. in political science
at Johns Hopkins University, where he was later Professor of Asiatic
politics for many years. Shortly thereafter, he graduated from editing
his father's books to publishing his own highly regarded works on Far
Eastern affairs. [1]
After graduating from Johns Hopkins, Linebarger taught at Duke
University from 1937 to 1946, but he also served actively in the Army
during World War II as a second lieutenant. Pierce writes that "As a
Far East specialist he was involved in the formation of the Office of
War Information and of the Operation Planning and Intelligence Board.
He also helped organize the Army's first psychological warfare
section." [2] He was sent to China and put in charge of psychological
warfare and of coordinating Anglo- American and Chinese military
activities. By the end of the war, he had risen to the rank of major.
Read More